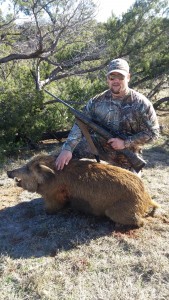 The built up anticipation and excitement transformed into reality as we rolled into the great state of Texas and the sun started to peak over the horizon. It was the trip to bridge the painful gap between the fall seasons and spring turkey, the trip that always creates lifelong memories (both from the hunt and the road trip itself); it was time for our annual pig hunt!  The journey had kicked off around 1 a.m. from Parker, CO, as Greg loaded the last of his beer rations in the trailer, and took us south into New Mexico and east to Texas.  Hunger set in as we rolled into the booming town of Dumas, TX, so what better place (only place) to stop then Alberts Diner?  At a glance it looked like any small town diner, but inside waiting for us was something special.  Little did we know we were about to walk onto the set of Blazing Saddles, 2016!  As Travis, Greg, and I walked through the sounds of customer chit chat ceased, the place went mute, and the 50 or so senior citizens having coffee and toast turned and stared at us in total pin drop silence.  After several uncomfortable seconds passed as we waited for someone to seat us one of the regulars said "sit where you want".  And just like that the pause button was switched off and the crowd at Alberts was back to gossip as usual.
After slamming down a Texas sized heart attack on a plate we were back on the road, Rustic River Ranch bound. A quick pit stop in Childress and a short time later we passed through the gates and pulled up to the lodge.  We were finally there!  Shortly thereafter one of the most badass hunting wagons in all of Texas came thundering down the entryway and came to a stop right next to us.  Nate and Casey jumped out of Nates' Subaru and the gang was all there with the exception of Tim.  Timmy had to make several stops along the way to find the hunting snacks that fuel him…..Skittles and Nerds.  The vehicles were unloaded in record time and we geared up to hit the blinds for the afternoon.  Shortly before dark I got a text from Travis.  He told me that Greg had just filled his first ever deer tag on a nice whitetail doe.  As the sun set on our first day of the hunt I knew that this first was enough to make the trip a success on its own.
At the end of our 2015 trip we decided to try for early January in 2016 in hopes of cold weather and daytime hog movement. It had been pretty cold in NW Texas for a few weeks prior to our trip, however, warmer weather arrived shortly after we did and the pigs didn't feeling like playing during the day.  Even so, on the second day Travis managed to take out the toughest pig in Texas.  At about 60 yards while quartering away the pig took a well-placed .308 round from Travis (after my arrow flew wide right) leaving no indication that it was hit and no blood trail prior to leaping off a 50 foot cliff and vanishing.  Some good tracking work by Nate, Casey, and Tim lead them to the expired pig, about 40 yards from the lodge in a row of cedar trees.  We closed out the day with some fine arrow work on several pheasants that went immediately to the smoker for an awesome evening treat.
Prior to embarking on the 2016 pig hunt, Greg had proclaimed that on the trip home we would be stopping in Amarillo where he would conquer the 72 ounce steak challenge. This being Greg's inaugural pig hunt, he had no idea how well we would be fed at Rustic River.  Needless to say Greg could not find room to attempt the steak in Amarillo.  The only somber moment of the trip occurred on the way home after passing Amarillo.  While heading north we noticed emergency vehicles ahead of us on the shoulder.  As we approached and passed the state troopers we found a grisly and disturbing event had occurred.  There had been a truck accident in the ditch dividing the lanes and, although it appeared no one was injured, we had to take a moment of silence in honor of the thousands of bottles of Coors Banquet that found their resting place along that lonely Texas road and Travis, Greg, and I each shed a lone redneck tear.  Sad moment in an otherwise awesome hunting trip.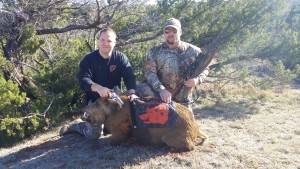 Generally I take every form of hunting I do very seriously. From the preparation, research, training, scouting, and practice, to executing the plan, I treat every hunt I go on as a "succeed or leave it all in the field" kind of event.  Hunting is a lifestyle that occupies me to some degree every second of every day. Hunting feral hogs is a very unique thing in the hunting world and I treat our trips to Texas different than other hunts.  Hunting pigs is a combination of vacation, light-hearted times with hunting buddies, pest extermination, grocery shopping, equipment testing, skill honing, and sleep deprivation.  Mix in some good food and a few evening beers and you have a recipe for a great time with great friends!  Every pig hunting trip is a success whether we fill one cooler or every cooler.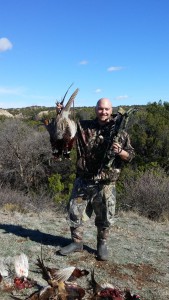 2180 Total Views
3 Views Today