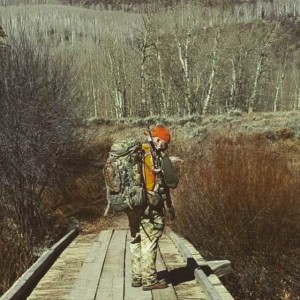 Initial Impression
Certain characteristics in hunting apparel determine if it becomes part of my go-to gear or if it ends up in the "good enough to wear around the campfire" pile. Here are some of the key factors I look for when selecting apparel:
-Fits in such a way that it is comfortable and non-binding.
-Does what it is intended to (i.e. insulates, cools, keeps water out, etc.).
-Is tough enough to withstand the abuse I might impose on it.
-Doesn't sound like I am wearing a 1980's wind suit when I move.
-Has a pattern that doesn't make me stick out.
There are plenty of companies out there that make apparel that matches up to one or two of the above factors, but finding all of this in a piece of clothing seems to be pretty rare. After testing the Tenacity pants by Pnuma I found that they met and exceeded my expectations in gear, so I ordered several items to test through the fall and winter. Let's take a look at the Insulator hunting vest.
As a bowhunter I like to wear vests as long as I can take the cold because they allow for uninhibited movement while keeping you warm, if the vest doesn't suck of course! Pnuma claims the Insulator vest is designed with an athletic fit and will provide warmth without being bulky. This is somewhat of a big claim as many vests on the market seem to pull off either warmth or a sleek athletic fit, but not both. When I first tried on the Insulator I was immediately impressed with the athletic yet comfortable fit and  that Pnuma managed to make a vest that is long enough without ordering a tall size.  You won't have to worry about the back creeping up and inevitably letting that cool breeze go tearing up your back when sitting. As with all the Pnuma products I have seen thus far, the fabric is very durable yet quiet, the vest is very well assembled, the zippers appear to be strong yet quiet, and the pattern is still awesome. For you tree stand hunters, Pnuma's Insulator vest has a slot in the back which allows you to wear a harness underneath and pass it through. Overall I was very impressed with the Insulator vest and eager to see what temperature range it could comfortably be worn in.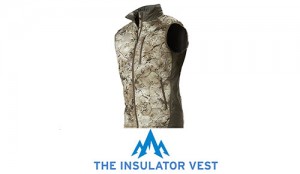 Initial Testing
Fall 2016 has brought some strange weather to Colorado, or at least the areas I have been hunting. Temperatures have been very unpredictable and somewhat extreme in either direction. Mix that with a lack of moisture and you get weather that isn't ideal for hunting but, if there is an upside, is great for testing hunting apparel! I first took the Insulator vest into the field while trying to fill a mule deer tag in 2nd rifle season. This season takes place during the last few weeks of October for those not familiar with Colorado seasons. The early morning started out around 19 degrees and by mid-day the temperatures were in the mid 60's to low 70's. This weather held basically identical for the duration of my short rifle season. I wore the Pnuma IconX base layer shirt under the Insulator vest and the Pnuma Selkirk jacket as an outer shell. To get a good feel for the Insulator vest I took off the Selkirk jacket about 1 mile into the hike into the woods. The temperature had not changed much (if any) by then and I was still very comfortable without an outer shell. As temperatures increased throughout the day I continued to wear the Insulator (beyond the point where I normally would remove a vest) and found the vest to be surprisingly breathable and comfortable. The fit of the vest was very comfortable while hiking with a pack and climbing through some of the nastiest blow down timber I have been in. Initially the Insulator vest has been everything I expected it to be and Pnuma continues to impress me more than any other gear I have worn.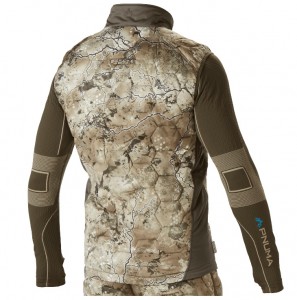 Final Testing / Thoughts
Beyond the initial testing, the Insulator Vest had many chances to prove itself to me. I wore the Insulator Vest as part of a layering system (all Pnuma) while hunting in wind chills well below zero and in knee-deep snow during a late season elk hunt, during the frigid pre-sunrise and sunrise hours while predator hunting in Colorado and Kansas, and on countless occasions in all sorts of weather while training, exercising, and hunting my G.S.P., Remi.  It did an amazing job of keeping my core warm while layering and also as a stand-alone outer layer in more mild temperatures (20's-50's).  I didn't have an opportunity to wear the Insulator without a shell in heavy rain or snow to really torture-test the water repellant coating, however, I did wear it in light snow and also in some heavy drizzle and it seemed to keep the moisture from soaking in.  The Insulator Vest meets and exceeds all my above listed factors I look for in hunting gear.  As expected, the fit of this vest is my favorite feature of all.  The "athletic fit" holds the vest comfortable close to you in such a way that the vest never gets baggy and interferes with shooting a bow nor does it ever impede movement.  No matter how hard I tried I could not find even one little thing to nitpick about with this vest.  Since posting my initial impression of this vest Pnuma has released an entire line of solid color apparel, including a solid Insulator Vest.  If Pnuma keeps this up their gear may very well replace the bulk of my everyday clothing as it has my hunting apparel!
2221 Total Views
2 Views Today