Initial Impression
"MOISTURE WICKING CAPABILITY".  This claim or something similar is pasted on shorts, socks, base layers, shirts, and just about everything else built for athletes and hunters that you will find on today's market.  Many companies, both in the fitness and hunting industry, claim their material will keep you dry, cool, warm, balanced temperature, etc.  Unfortunately, it doesn't always work that way and, in my experience, many of these claims are absolutely false.  I have tried gear and clothing that felt like trash bags, wet suits, non-breathing silk, (steel) wool, one that felt like the sun was wrapped around me, and one that felt like I didn't have anything on at all.  While a couple of these may either keep you cool or warm (or hot), there is no way possible of finding a comfortable balance.  Not to mention many shirts or base layer items on the market are built to last for about a season or less.  To say that I am skeptical about the claimed performance of hunting/athletic apparel that makes these claims may be an understatement.
To be absolutely honest I first ordered the Tenacity Coolcore Performance Hunting Shirt not because I was desperate for a shirt that performs as Pnuma claimed, but because I saw a picture of it on social media and thought it was an awesome looking hunting shirt!  I liked the athletic cut it appeared to have, the two-tone of camo and solid, and the fact that it appeared to have very strong and durable seams unlike a lot of similar shirts on the market.  So without delay I placed my order and it arrived shortly thereafter in true Pnuma style; carefully folded and wrapped in a personalized dry bag with my name hand-written on it.  Did I mention the care and attention Pnuma takes in packaging and shipping in every review but, what can I say?  It's hard to find a company in any industry today that takes this kind of pride in their product and that says a lot about Pnuma.  When I pulled the Tenacity shirt out of the dry bag the feeling and texture of the material was similar to some of the fishing shirts available today, also made to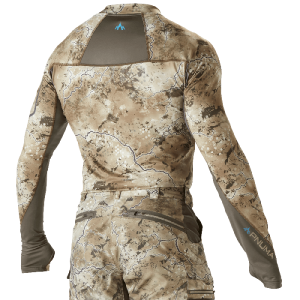 keep you cool and dry.  However, the Tenacity shirt felt much stronger and less likely to snag.  I am a big fan of thumbhole sleeves which the Tenacity shirt was built with and I also noticed the seams down the arms on across the shoulders were placed a bit differently than most apparel.  It gave the impression that Pnuma spent some time studying human movement and placed the seams in such a way to minimize tightness across the shoulders and twisting down the arms during movement.  I briefly threw the shirt on and found the fit to be the usual athletic-type fit Pnuma has nailed and could immediately feel the fabric was very capable of keeping you cool and dry.  As with all Pnuma gear I was excited to put it to the test and see how it performed.
Testing
I tested the Tenacity shirt in a variety of weather and temperatures.  I wore it under the Pnuma Insulator vest and Selkirk jacket in subzero wind chills while calling coyotes in eastern Colorado and northwest Kansas early this spring, through the cool mornings, warm mid-days, and cooler evenings of spring turkey season in various states, through hot days in the western Colorado high desert, and while working out both in the gym and outside on 90 degree + days.  I found that you can wear this shirt and be as comfortable as you would with any other shirt (of comparable thickness and material) in the extreme cold and notice no difference.  Although this is not the type of conditions this shirt was designed to excel in, I like to know how versatile a piece of clothing can be in all conditions.  Anyone that has been in the Rockies in September knows you can be in sixty degree weather and a snow storm in the same day.  The Tenacity shirt also performed very well in the variable Midwest temperatures during spring turkey.  It was comfortable in the cool morning and evening air and was great through the heat of the day.  While glassing in the sun you could feel the difference between the Coolcore fabric compared to other moisture wicking and/or cooling fabric.  I read that private testing (not claims by Pnuma) has proven that Coolcore technology reduces the surface temperature of the fabric by up to 30%.  It would be impossible to judge a percentage, but I can say without a doubt that the outside fabric (and by default me while wrapped in it) was noticeably cooler.  After putting in time in the smoking hot Grand Junction area, in the gym, and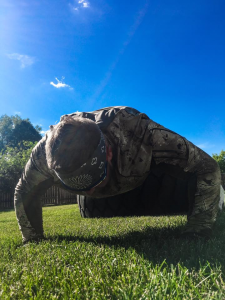 while working out in the outdoors this summer, I can also attest to the moisture capabilities of this fabric.  This shirt wicks moisture and keeps you cool better than any shirt I have ever put on.  I wish I had this shirt with me when I went fishing off the coast in South Carolina a few years ago!
As far as function goes there isn't a lot to test on a shirt.  There is a zipper-secured pocket on the upper left bicep that came in handy for holding extra diaphragm calls while turkey hunting.  I have done a decent job of trying to beat this shirt up, yet the seams still hold strong and there are no weak spots that I could find.  I was in some dense, nasty, rugged terrain while turkey hunting in Nebraska, yet the shirt has zero snags in it which is impressive for as soft and smooth as this fabric is.  As I suspected, the way the seams were done on the shoulders and down the arms was perfect.  The shirt does not ride up, twist, or pull tight across your shoulders through any movements.  Something that can't be said for a lot of clothing on the market.
Summary
The more I test and review Pnuma gear, the more impressed I am.  I always try to find something that could be done better or something I didn't like, however, Pnuma seems to be really good at making this tough.  I have nothing.  This is basically as perfect as a shirt built for serious hunters could be.  And if you can bang it up to the point of needing repaired, Pnuma has a lifetime guarantee.  Unless someone starts building gear that makes you physically stronger, faster, or a better shot, I think Pnuma will soon be the apex predator in the hunting apparel world.
2332 Total Views
1 Views Today