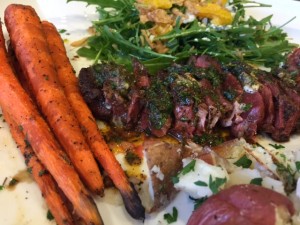 Ingredients:
2 bone-in bison rib steak, 1 3/4 to 2 inches thick, about 1 to 1 1/4 pounds total
Kosher salt and freshly ground black pepper
3 sprigs fresh rosemary
2 Tblsp – ground bold coffee or espresso powder
2 Tblsp – smoked paprika
1 Tspn – garlic powder
3 sprigs fresh thyme
3 tablespoons vegetable, canola, or peanut oil
4 tablespoons unsalted butter
6 garlic cloves, smashed
Preparation:
        Coffee Dry Rub mix–
2 Tbsp. – ground bold coffee or espresso powder
2 Tbsp. – smoked paprika
1 Tsp. – garlic powder
3 sprigs fresh thyme
Salt and lots of Black pepper

Mix all together and eventually coat ribeye on both sides with rub mix. When cooking on grill or cast iron pan rub will begin to darken or burn, this is normal and is part of the flavor process.
Season steak liberally on all sides with dry rub. Set on wire rack set in rimmed baking sheet and place in refrigerator uncovered overnight.
Meanwhile, Heat Grill to medium high heat or heat oil in a 12-inch heavy-bottomed cast-iron skillet over high heat until just beginning to smoke. Carefully add steak and cook, flipping frequently, until a pale golden brown crust starts to develop, about 4 minutes total.
Reduce heat to medium. Add 3 tablespoons butter, garlic, whole rosemary sprigs, and whole thyme sprigs to the skillet and continue to cook, flipping steak occasionally, and basting any light spots with foaming butter. To baste, tilt pan slightly so that butter collects by handle. Use a spoon to pick up butter and pour it over steak, aiming at light spots. Continue flipping and basting until an instant read thermometer inserted into thickest part of tenderloin side registers 115 to 120°F for medium rare, or 125°F for medium, 6 to 8 minutes total. Immediately transfer steak to a wire rack set in a rimmed baking sheet and place herb sprigs and garlic on top. Allow steak to rest uncovered.
Place steak on serving platter and serve immediately with roasted fingerling potatoes seasoned with Rosemary and Thyme, and browned butter.
Recipe courtesy of Matt Tezak
2638 Total Views
1 Views Today