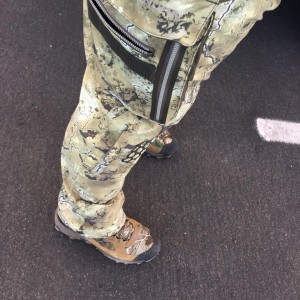 Initial Impression
If you are like me you have probably spent a lot of time and money on a quest to find the hunting gear that suits you best. From cheap to expensive, I have tried pretty much every well-known (and many not so well-known) company out there to find what I am looking for in gear: good fit, durability, functionality, and a suitable pattern that doesn't look ridiculous.  About a year and a half ago I thought I had found that in one of the higher end companies and still love their product to this day.  When I decided to start doing some gear reviews on this website I started to dabble in some of the new companies coming onto the scene.  That's when I discovered Pnuma.  The first thing that caught my eye was their pattern.  Now most of us know that the pattern of gear can pretty much be anything as long as it breaks up your shape, which is why your grandpa was able to bag massive deer in his flannel jacket back in the day.  My initial thought was that Pnuma had developed a pattern that would do an excellent job in the environments I hunt in….and it looked pretty sweet too which (let's be honest) is equally important!  The biggest selling point in determining that I was going to test out a piece of Pnuma gear was the words "guaranteed for life".  That seemed like a pretty bold statement from a company that had not shipped out a piece of gear yet.  Knowing Pnuma had that level of confidence in their gear I placed an order for one pair of the Tenacity Performance Hunting Pants as they seemed to be fitting for the upcoming September elk season in CO which can range from smoking hot to bitter cold.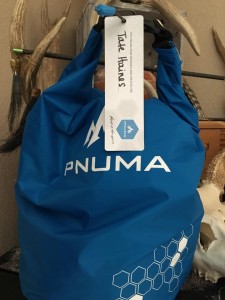 I have never been impressed with any company upon cutting the tape and opening a box, ever. When I opened my package from Pnuma I found my pants were neatly folded inside a very nice dry bag with a personalized label attached to the bag.  I am not aware of any other company that takes this much pride in their product and customer service and I was immediately impressed with this company.  When I first put the pants on I found that the waist and length sizing was true to the number which was a nice change compared to some of the newer companies.  The legs fit a bit snug around my calves but felt very comfortable as the overall fit of the pants could be described as an "athletic" fit.  The fabric seemed like it would be very durable and felt as if it would dry quickly if you ended up in a downpour as my luck always brings me.  Although I have never been a huge fan of knee pads in my hunting pants the pads in the Tenacity pants seemed to be a little smaller than most I have tired and molded a bit more correctly to fit my knees.  The inside of the waistband had a rubberized characteristic (similar to that of some dress pants) to hold a tucked in shirt in place via friction which was also a nice touch.  Overall I was impressed with the detail Pnuma had put into these pants and I honestly felt like these were the most comfortable pants, hunting or otherwise, I had ever put on.
Testing Summary
I first wore the Tenacity pants for two days of scouting the high country in Southern Colorado in mid-August. We camped around 11,500 ft and woke to sub-freezing temperatures both days.  I imagine Pnuma designed the Tenacity pants for early season hunting (and probably for warmer weather than this) but I purposely wore them without a base layer.  Surprisingly enough they regulated the temperature of my lower body fairly well and I managed to stay comfortable.  During this two day scouting trip we covered approximately 15 tough miles and the Tenacity pants seemed less like hunting pants and more like high-end hiking pants.  No hiking, creeping, sagging, rubbing, or ventilation issues at all.  As the temperature rose the Tenacity pants breathed well, wicked sweat, and dried as quickly as any other athletic apparel I have ever worn.  Overall I was extremely happy with the pants on the two day scouting trip but knew the true test would be the actual elk hunt a few weeks later.
My first trip of the archery elk season was scheduled from September 1st thru the 10th in Southern Colorado.  I knew the first several days of the hunt would consist of covering a lot of terrain and historically (based on my continued bad luck) would provide some volatile weather to contend with.  This seemed like the perfect scenario to push the Tenacity pants as far as I could.  At the risk of becoming the stinky guy at camp I tortured these pants for five days straight in thunderstorms, pouring rain, sleet, wind, cold, and blistering heat.  I crawled up steep scree slopes, through wet grass, in rocky tundra, and thru thick timber.  Unlike most pants I have worn the Pnuma Tenacity pants never got that "starting to get baggy and loose because you have worn them for too long and soaked them with sweat and god knows what else" feeling that other clothing gets over time.  The breathable fabric from the inside of either knee up to the crotch of the pants provided good ventilation and allowed the pants to dry quickly after some of the particularly tough uphill climbs we covered.  I found the cargo pockets very handy as they have both traditional top access points as well as front access points which made it possible to get into the pocket from basically any position you could contort yourself into.  I really considered wearing the Tenacity pants for the entire trip but assumed I would be forced to stay downwind from my hunting partners at some point!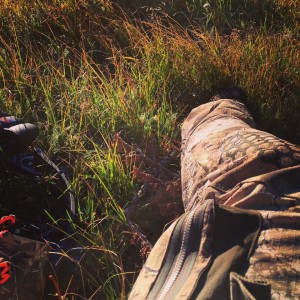 Summary
I am very picky and critical of all the gear I use for hunting and camping, clothing or otherwise. There is always something I can find in any piece of gear that I feel could be improved or that steers me away completely.  Since the first time I put the Tenacity pants on I have been racking my brain to find something, anything, that I feel is not up to par.  After much deliberation the only thing I can find is a small button on the cargo pockets (designed to pull the pocket in and not allow it to expand if not in use) that comes unsnapped if you have giant legs like me and do some steep uphill climbing.  This is probably the most insignificant "issue" I have ever pointed out on any piece of gear!  That is really it…..really.  Pnuma has managed to develop what I would say are the most comfortable and most functional hunting pants on the market.  If every piece of gear Pnuma makes is this good (I can't imagine it isn't) and I could get a refund on most of the gear I have purchased over the years Pnuma would possibly have to charter a delivery van to drop off my next order!  If you are on the market for new hunting gear or if you just like to try out new gear make sure you check out Pnuma.
11618 Total Views
7 Views Today