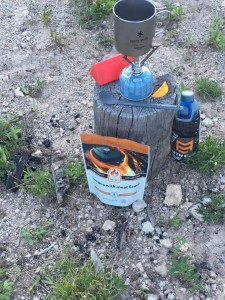 Initial Impression
I spend a lot of time planning and considering what will go into my pack before I head into the mountains to camp, scout, or hunt. A good portion of that it is spent (painfully) browsing in REI, Cableas, and various other places trying to find a new variety of freeze dried meal that doesn't taste like a salt block with the texture of wet gravel.  Up until this winter I had tried just about every dish that a couple of the bigger names in freeze dried foods makes and had only found a few that landed in the decent flavor zone.  In January of this year I attended the International Sportsman's Expo in Denver at which time my nose pulled me to one of the many backcountry-type food booths, Campfire Meals.  The food samples that were at Campfire Meals booth actually smelled like real food!  I sampled a few of the lunch and dinner meal options to include the Lasagna with Meat Sauce (2 serving bag, 270 calories, 32g carbs, 14g protein per serving) and the Rice & Sweet Pulled Pork (2 serving bag, 24 calories, 39g carbs, 11g protein per serving), both of which truly tasted like something you would make at home.  And the extra added bonus…..I didn't feel like I needed an entire gallon of water and an IV for my body to move past the salt.  At a glance I noticed many of the Campfire Meals had less than 600mg of sodium, several around the 300-400mg range, and not one meal in their line breaks 700mg.  If you have spent much time looking at some of the popular brands on the market you have seen that 800+mg almost seems to be the standard for some companies.  I left the ISE that day with a bag of various entrees to test and a new found excitement for what might be a new flavorful meal option come bag-stuffing time.
Since my initial purchase I have tested out the Lasagna with Meat Sauce, the Rice & Sweet Pulled Pork, and the breakfast skillet in their entirety (consumed full container). One meal was ate before a long and tough workout (Rice & Sweet Pulled Pork), one after a grueling workout (Lasagna), and  one before hiking in to setup trail cameras on my first scouting trip in early June (Breakfast Skillet).  The two lunch entrees were equally satisfying in taste and texture, both were plenty to comfortably satisfy appetite, and both absorbed the added water evenly with now dry spots in the meal bag.  If nothing else, these two meals will always go into the backcountry with me for the foreseeable future.  While the breakfast skillet was the right amount of food for a pre-hike meal and cooked thru nicely I will say that the flavor did not excite me tremendously.  If I had some sort of hot sauce to pour in I think it would have been more appealing but it was otherwise a bit bland.  The x-factor in my evaluation of this breakfast is that I struggle to force down most breakfast in the pre-dawn hours at higher elevation, so keep that in mind if you are basing your decision to try a breakfast entrée.  The texture, however, was actually correct for eggs, sausage, potatoes, onions, and peppers which was a nice change for a freeze dried breakfast.  I look forward to trying some of the other breakfast options Campfire Meals has to offer.
Summary After Initial Testing
For the first time ever I am actually looking forward to firing up the JetBoil and preparing freeze dried meals in the high country. I will continue to test the other entrée options Campfire Meals has to offer during scouting and hiking trips this summer in preparation for the fall season.  Check back later for my final evaluation of Campfire Meals.
3277 Total Views
5 Views Today